In 2018, according to the Australian Bureau of Statistics (ABS) , there were about 2.3 million active businesses in Australia. Small businesses are companies that are either owned by a sole proprietorship or a firm having less than 20 employees. In this competitive world, where every aspect of business is measured in terms of capital and returns, saving money or getting a task done free of cost is a blessing for these growing entrepreneurs. 
Many startups, small and medium companies invest quite a lot of money on Marketing – traditional and digital. When it comes to digital marketing which includes Website Optimisation, Social Media Management, Web Analytics and Content Writing, finding the right tool for each can be tricky. There are quite a lot of tools available online that claim to be the best, but you might end up regretting the purchase later. To help you with these purchasing decisions, we have listed out some tools which are free to use that will be useful for you in your daily business. 
1 Content Writing
Content Writing is the art of writing engaging content for use online. This includes articles, blogs, whitepapers and general website content. Every content writer would have experienced a "creative block" at some point of time. You might have felt that you have nothing left to write about or are confused about what to write. The following tools can help you to write engaging content for your audience.
This tool is from hubspot and it is something that I always look upon whenever I feel that I have run out of topics. It is quite simple to use. You just have to type in a general term related to your product/service that you want to write a blog about and the tool itself will give you five topics for your blog. In addition to that, you can also get up to 250 blog topics by email if you fill in a small form provided by Hubspot.
Google Trends tool lets you search for a term or topic and it displays how popular the topic/term is in any particular country you choose. You can also choose up to five topics/terms and Google Trends will compare the popularity of these topics. This is extremely helpful to know what users are searching for in a specific period of time and gives you an idea of what to write about.

Answer the Public is a free keyword research and content idea tool. You just have to type in a search term and the tool gives you all the possible questions the term can have. 

2 Design
Wikepdia defines Canva as a simplified graphic design tool website that uses drag and drop features and provides access to photos, vector images and fonts. Canva is extremely useful to people who are new to graphic design or those who do not know how to use software like Adobe Indesign or Illustrator. The tool contains millions of copyright free photos that you can choose from to add to your design. It has a variety of formats to choose from such as animated social media posts, Instagram posts, LinkedIn banners, Blog banners, etc. Each of these formats has a different image aspect ratio. Hence users just have to select the type of design according to the purpose and Canva automatically displays the correct height and width of the post.     
         
3 Email Marketing  
Mailchimp is a free email marketing service tool that helps you to manage your email campaigns easily. The steps are user friendly for new users. You can build your own audience from the subscriber list and also target market to a specific audience. Mailchimp helps marketers to understand which emails had the highest open rate making Mailchimp extremely useful for A/B testing. Mailchimp can also be used to send automated welcome message to new users.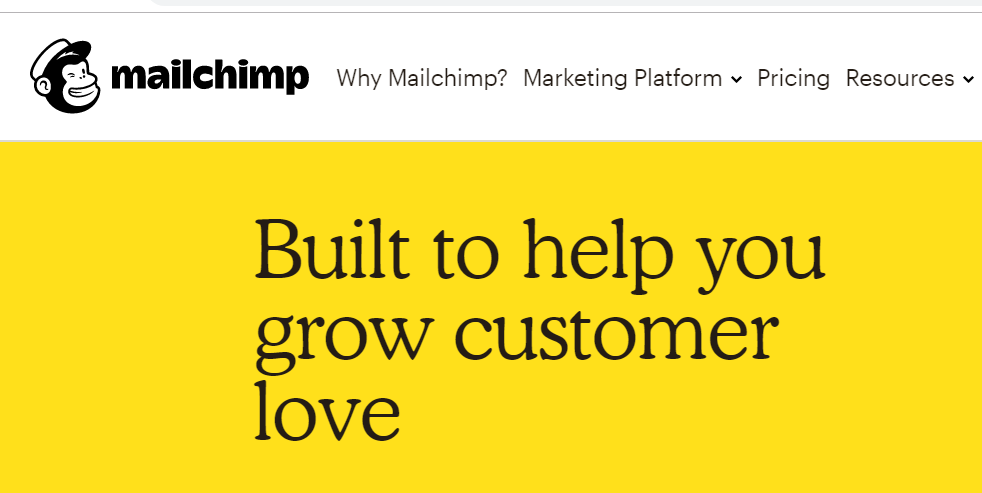 4 SEO
Screaming Frog is a crawling tool that helps you to crawl any website and it displays the site structure and any missing SEO elements. The free version of Screaming Frog crawls about 500 pages. There is a desktop version available that you can download to your system. Screaming Frog is extremely useful for doing website audits and to study the site structure of any website. Technical SEO analysts might get a lot of insights from using this tool. 

Moz provides an extension for Google Chrome that instantly provides the PA and DA of any website you visit. In addition to that, it also displays the spam score, highlight links and gives a list of on page elements too. The page optimisation feature, however, is available only for the premium version of Moz. 

       There are other free SEO tools provided by Moz that you can check here.
SEMrush is not a completely free tool but after using the free version of it, I am sure you would think of an upgrade plan. This tool gives you a lot of insight on your own website in regards to domain analytics, organic research, paid ads research, position tracking, keyword gap and is also an excellent tool for competitive analysis. The on-page SEO checker is a must to use if you want to effect some changes in your website content to improve the overall SEO score of your website. SEMrush is also very useful in performing site audits. It lists the major issues, warnings and notices that you can implement on a priority basis to make sure your website is healthy. 
5 Keyword Research
Google Keyword Planner tool
The keyword planner tool comes with Google Ads wherein you type your product or service and the tool lists all the possible or related keywords along with the average monthly searches, competition and the bid range. Keyword research is a very important aspect while implementing SEO or creating paid ads. Many businesses gather from 50 – 1000 keywords depending on the size and range of the services they offer. 
Ubersuggest is a free SEO analyzer that provides you with keyword suggestions, content ideas, backlink profiles, landing pages and domain overviews. You may also connect your Google account and get suggestions and rank tracking on a daily basis.

This is not a completely free tool, you might have to upgrade to the pro version to get full access. The best feature is that it is a one stop shop for doing keyword research for Google,Youtube, Bing, Amazon, eBay and Play Store. You can also use this tool to get the best hashtags that can be used for your Instagram and Twitter posts.

6 Analytics
Google Analytics still remains the most popular free analytics tool. It provides various reports from real time to cohort analysis which helps the business stakeholders and marketers to gain meaningful insights in to what is happening with their online presence and how users are making use of their website. You can add filters to view restricted or modified data, connect to your search console and Ads accounts to pull in more data for analysis. You can also import offline data to your analytics account. Conversion tracking is one of the important features in the Google analytics platform. This effectively helps a business to know how successful their marketing campaign is.

7 Social Media Management
Tired of manually posting content to your social media accounts? Well, Hootsuite makes it easier for you to manage all your social media accounts in one single place. With the free version of Hootsuite, you can schedule up to 30 posts per month. This platform also allows you to track different features from your social media accounts. For example, if you would like to track your posts on your business LinkedIn and Facebook pages, you could add these as streams in Hootsuite so that you can monitor the customer engagement for multiple social media accounts in one place.

8 Project Management
Trello is a free tool for you to keep track of all the ongoing, pending and completed tasks within your business workflow. You can add your team members to a group and assign them with various tasks and also comment on each task to update it's status. Management and organising of tasks is extremely important especially if you are the single owner of multiple accounts. Not only that, the tasks generated from site audits and SEO analysis you do in tools such as SEMrush can be sent directly to Trello and you can assign it to your team members immediately.

9 Hubspot Marketing Tool
Hubspot provides a free marketing tool that is very useful for small businesses. It is a complete inbound marketing tool that covers features like Email Marketing, Social Media Paid ads, Forms, Live chat and Traffic analysis. The premium version provides you with more advanced features like SEO tool, content creation and social media tools, analytics dashboards, marketing automation and many more. 

These are just a few free tools that are available. What is your favorite amongst these? Do you know or have used any other marketing tools? Please share with us, we always love to hear about new tools and feedback to help our clients grow and improve their businesses!