What is Google My Business? 
Google My Business (GMB) is a free business listing that allows your business to be displayed in Google search and Maps. 
If you search for any service or business, Google will first display a map with the local businesses listed inside a box. The listing will include your business name, rating (for specific categories), reviews, business hours and photos.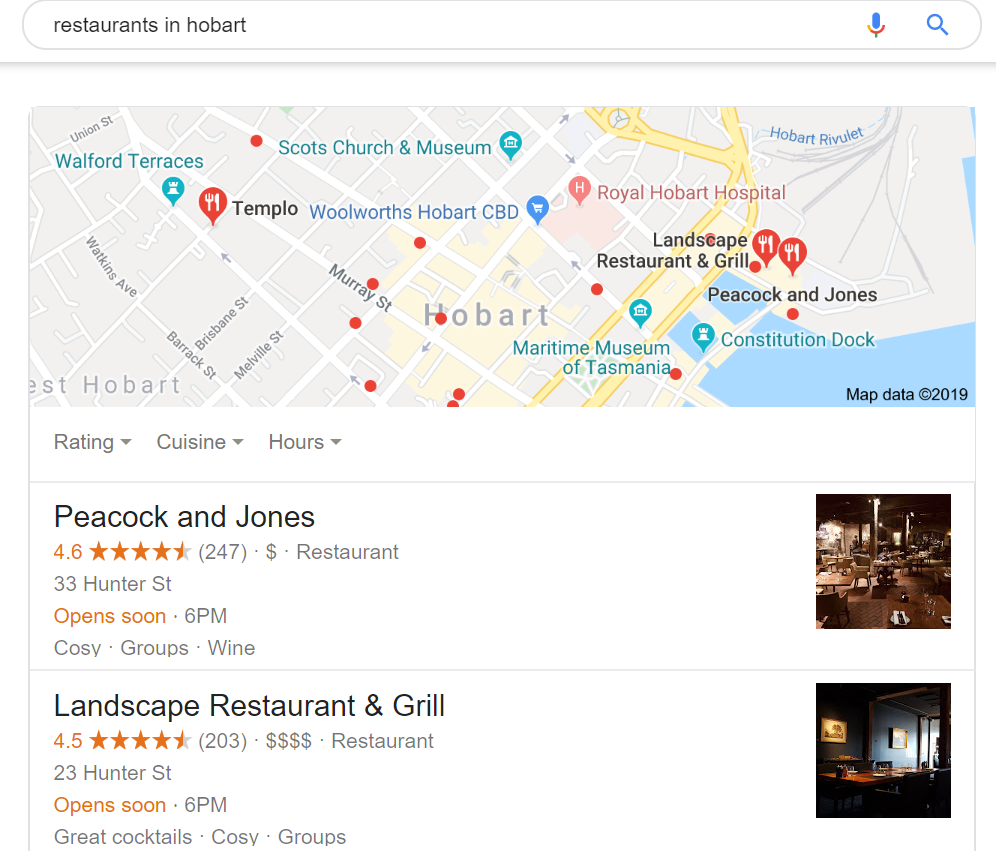 Why setup Google My Business account?
Imagine you are running a sushi restaurant or an Air Conditioning service company in Hobart, Tasmania. A user in Hobart within the area of your business searches for "AC services near me" or "AC services". They will be able to see your business listed in the GMB listing results in the box that comes up (see photo above). The results that come up will be for AC service companies located in Hobart that have listed their business on Google My Business and will show your review stars as well. 
This means that you can potentially gain this user as a customer as they are specifically searching for your service you offer. You are missing out on a great opportunity for your business if you haven't set up your Google My Business yet!
 Setup:
To setup your business in Google My Business,

first visit this link.
Click on the "Manage now" button and it will take you to the next page where you have to enter the name of your business and click the Next button.
Now choose an appropriate category for your business. You can start typing in the category in the text field and the relevant category starts auto populating, from there you can select one that best describes your business.  You will need to be careful while selecting the category. Do not add multiple categories just to match all the products/services you offer. 
Choose a general category if the suggested category options do not match your business. There is an option to edit the category once you finish setting up the GMB account but note that you will need to verify your business again if you add/change the category. Click 'Next' when you are done.
Adding in a location will help your business to be seen and listed whenever a user searches for a service related to your business in your location. Google My Business becomes highly beneficial to a 'brick and mortar' business because of this option. 
Be sure to add in the correct address. You can also mark you exact location on the map.
Serving customers outside your location – If you wish to provide your services to customers outside your location , you may choose "Yes" as the option and add those locations too.
Enter all the contact details such as the phone number and your business website url (you can also opt in for a free basic website that Google creates for you if don't have one yet). Please make sure that the Business name, address and phone number that you provide is the same everywhere – in GMB, in your website, online directories and so on.

Once you finish setting up the GMB, you will need to verify your online business listing. Once your business is verified, your business listing will be displayed in the search engine results pages.
There are 5 different ways you can verify your business (some are for selected businesses)
Verify by mail

Verify by phone

Verify by email

Instantly verify (provided your website that is verified via Google Search Console)

Bulk verification for businesses in more than 10 locations
You can follow this link which gives you detailed information on the best method to choose for verification of your business and how to go about it.
Once you have finished setting up the Google My Business, you will be taken to a dashboard (as seen in the screenshot above) which has several options like info, reviews, photos, products and so on. Try to fill in as much information as possible about your business so that the search engine will be able to comprehend the data that you provide and your listing will be successful in securing the top place in the GMB list results. 
Sometimes, you might see another business that is not located near your location being listed in the search results. This is because Google gives the chance for similar businesses to compete against local businesses too! This is where the importance of optimisation comes in. Always upload clear and high quality photos. Anyone can edit the information , so be sure to sign in and have a look at your business info to check that no one else has typed in any incorrect information.
We at By George Digital, provide FREE assistance to all our clients in setting up and optimising their Google My Business account. Please reach out to us by phone on:
0434 734 842 or mail at info@bygeorgedigital.com.au to see how we can help you.
For more Local SEO tips, please read our blog.